Foundation Art Exhibition: Taub Gallery: West Hartford CT. Dec. 1993
No Name: Hartford, CT. 1995
Open Studio Weekend: exhibited artwork and curator for student exhibit. Hartford, CT. Dec. 1995, April 1996, Dec. 1996, May 1997
The Spiral: art exhibition, East Village, NY. July 1996
Alexander A. Goldfarb Art Exhibition: West Hartford, CT. Dec 1995, Dec. 1996
Pro'.gres Art Exhibition: Taub Gallery, West Hartford, CT March 1997
Watchung Art Gallery: Watchung, NJ, Spring, 1998.
Montclair Open Studio: Montclair, NJ, April, 1999
Montclair Studio Tour: Montclair, NJ, October,1999
Makeready Press Gallery: Montclair, NJ, April 1999 - 2001
Midland Gallery: Montclair, NJ artwork currently on display since June 1999
Projected Visions: Gallery One: Upper Montclair, NJ January - March 2000
Red: Gallery 214, Montclair, NJ, May 2000
Dreamscapes: Gallery 214, Montclair, NJ, September 2000
Studio Montclair: Watchung Arts Center. Watchung, NJ, April 2001
Studio Montclair Exhibition: 416 Bloomfield Ave, Montclair, NJ Dec. 2001
Mother's Love: Pavilion Gallery, Mount Holly, NJ, May-June 2002
Raw Spaces: South Park Street, Montclair, NJ, February 2002- present
The Seed is Sown: Interchurch Gallery, New York City, NY, July-August 2002
Faces IV: Period Gallery, Omaha, Nebraska, October- November 2002
November: Solo Exhibition: Clark House, Montclair, NJ, November 2002
Heartstrings: Clifton Arts Center, Clifton NJ, January 2003
Luna Stage Company: Montclair, NJ, December -February 2003
Elizabeth McGraw Gallery: Solo Exhibition: Newark Academy, Livingston, NJ September 2-27th 2003
Calyx Journal of Art and Literature by Women V21 #1 Winter 2003:Artwork published
Studio Montclair Slide Night: Montclair Art Museum, Montclair, NJ, October 16th 2003, September 2004
Let's Face it, What is a Portrait: JCC Metrowest, Whippany, NJ, February - April 2004 (Exhibitor and Panelist for slide discussion)
Art Market: Montclair State University Gallery, Montclair, NJ November 2004-December 2005
Blackboard Gallery: William Paterson University, Wayne, NJ. October 2005-December 2005
Women: Builders of Communities a Dreams William Paterson University: Women's history month 2006 Featured Artist, also included publication
Jigsaw Art Gallery: New York City, New York, July 2005-August 2005
Robin Hutchinson's Gallery: Maplewood, NJ. July 2005– July 2006
Atrium Gallery: Morristown, NJ, November 2006-January 2007
Peck School: Artist of the Month Series: Solo Exhibition: Morristown, NJ; January –February 2007
Second Story Gallery: Teachers and Students: Chester, NJ January-March 2007
Time Presentations: Power Art Gallery-William Paterson University, February 14th 2007
Artists Planting Seeds of Hope, NJ October 2007- January 2008
Odrazy/Reflections: Bratislava, Slovakia and touring Slovakia for 2008-2009
Accademia Ristorante: Firenze, Italy, 2009-present
Commissioned art works on display in the United States, Poland and Costa Rica.

As always things change, they evolve and change their course......As I evolve, my art changes.
Jessica Russo Scherr (formerly Perry) is an artist who has actively exhibited work for over 15 years. She earned her BFA from Hartford Art School, University of Hartford, her Post BA teaching certification from Montclair State University and she attended William Paterson for her 2 years. Currently she is obtaining her Master of Arts in Art Education from Boston University. She also teaches art in Florence Italy. During 2007-2008 Jessica was on a Fulbright Award in Bratislava, Slovak Republic. This award afforded her the opportunity to teach in the oldest art school in Europe.
Her artwork is about personal experiences and the relationship between people, environment and objects. It is a physical model for stages, emotions, and dilemmas in life, documenting progress and resistance. Her experiences through teaching influence her work and serve as inspiration for many of her portraits. Since working as a teacher, she has painted a number of her students. The concept behind each painting is individual to each student and is developed through her interaction and experiences with the students.
She uses the human body, a portrait or a representation of herself, to give form to psychological states or emotional experiences. These people often represent the limits of a life lived in conflict with its desires and its role in society. Along with the idea of conflict, She focuses on duality, protection, personal evolution, development, healing and growth and how it relates to different stages of life. These stages are depicted in social and spiritual situations. She uses a variety of media to translate these concepts, including painting, drawing, photography, digital illustration and collage.

Press and Publications:
Calyx Journal of Art and Literature by Women V21 #1 Summer 2008:Cover Artist (see below) and Artwork published
Calyx Journal of Art and Literature by Women V21 #1 Winter 2003:Artwork published
Women: Builders of Communities a Dreams William Paterson University: Women's history month 2006 Featured Artist, also included publication
Artwork Featured in Inside Montclair TV Show
Click here to view: Newspaper Article: Daily record, Artist plant seeds, December, 2007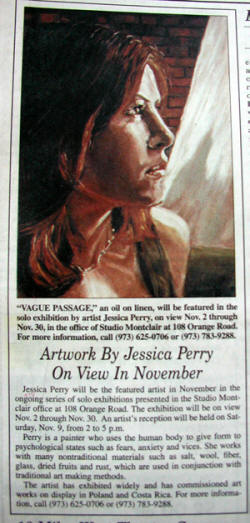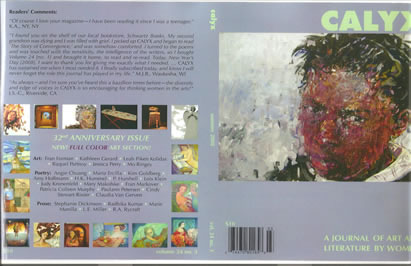 Contact Jessica Russo Scherr at bluelavaart@yahoo.com